Introducing MTN Mega Plans
Moe from Mondo / 03-11-2020 / Tech news
MTN has just announced its brand new Mega Talk and Mega Gigs Plans to commence from November 2020. It promises to meet the needs of every type of smartphone user whether you rely heavily on data or talk time.
The new Mega Plan will be split into two categories - MTN Mega Talk and MTN Mega Gigs. Each plan is designed to offer more value in how you use your device. It's available to customers who are taking out a new contract, existing customers who want to add a new line to their account and those who are eligible for an upgrade.
All Mega Plans come with a degree of flexibility regarding the contract term. You could opt for a 24-month or 36-month contract. However, there's also the option of a month-to-month contract. You can get the plan on a SIM-only deal or with a new device. To sweeten the deal, MTN is offering a free subscription to Apple Music for six months to customers who take on a new contract, add a line, upgrade or migrate to an MTN Mega Talk or MTN Mega Gigs plan. If you want in on the action, you'll have to act fast because that offer is valid until the end of January 2021.
If that's not enough to tempt you, when you sign up for a Mega Plan, you receive 20GB of data as a once-off gift valid for 30 days.
Some of the benefits of these new plans include Social Data, Video Streaming Data, and International Calling. As expected, social data is reserved for the likes of Facebook, Twitter, WhatsApp, Instagram and YouTube only while Video Streaming Data can be used to access Showmax and DSTV Now only, provided you have an active subscription with those providers. International calling provides you with Rand value when placing calls overseas. The rates are determined by the destination you dial.
If you're still undecided about the new MTN Mega Plans, take a look at this breakdown.
MTN Mega Talk Plans (Talk-centric plans)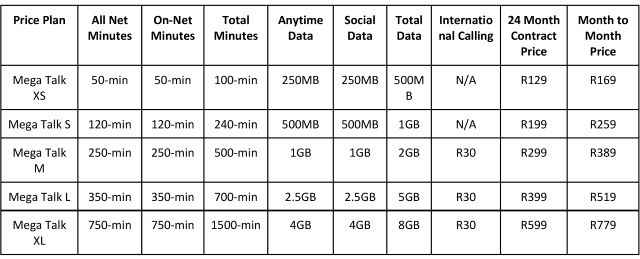 MTN Mega Gig Plans (Data-centric plans)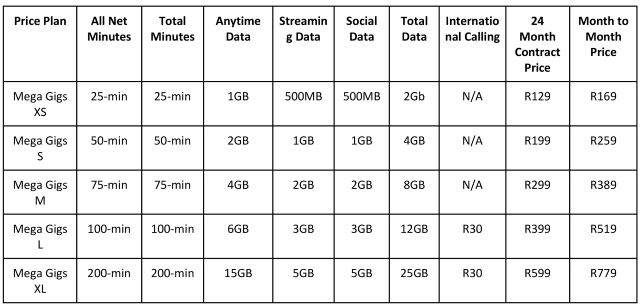 Check out our range of MTN Mega deals here.